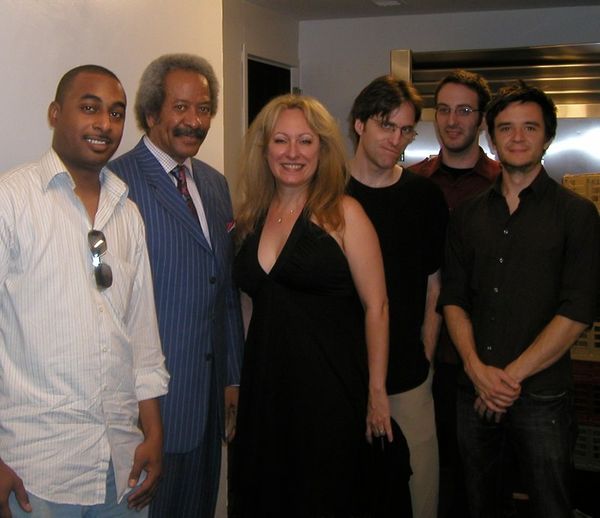 GAUDET

Bringing together Christina Gaudet's music backed by her phenomenal touring band,
Gaudet takes song presentation to new heights!
.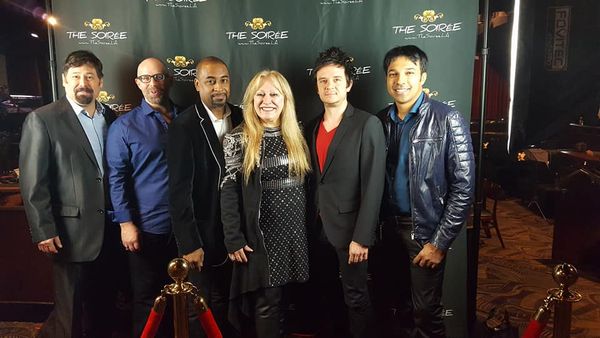 Gaudet at BB Kings for the Soiree, Pre Grammy, Opening for Dionne Warwick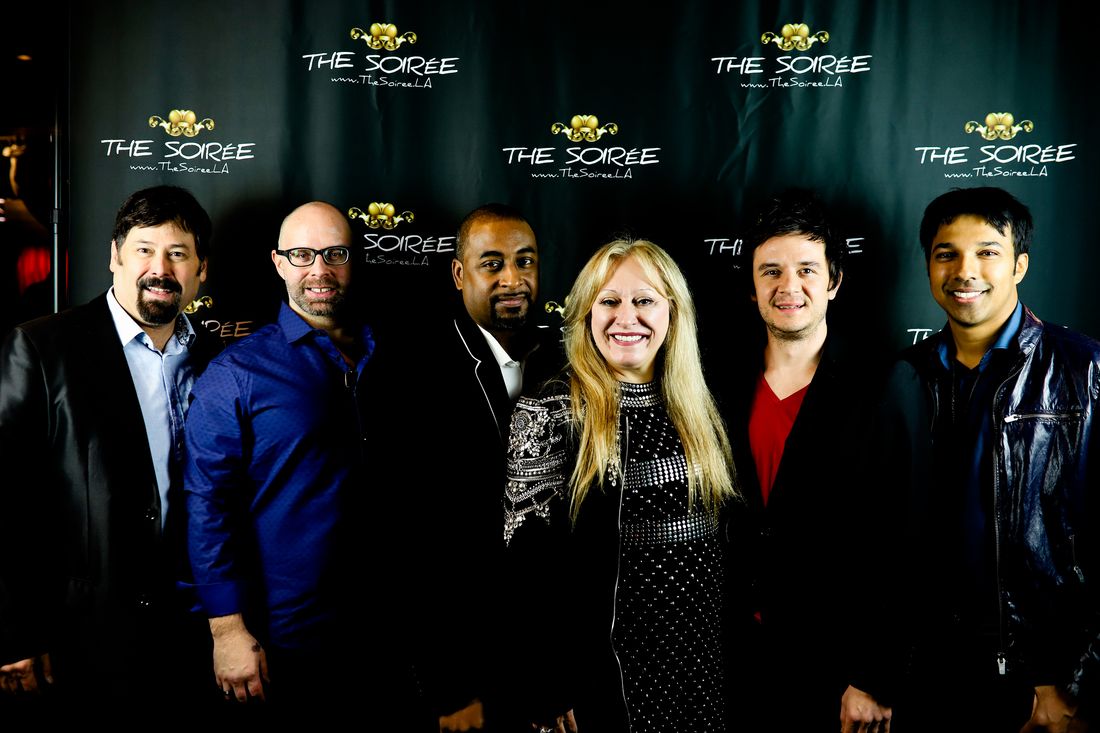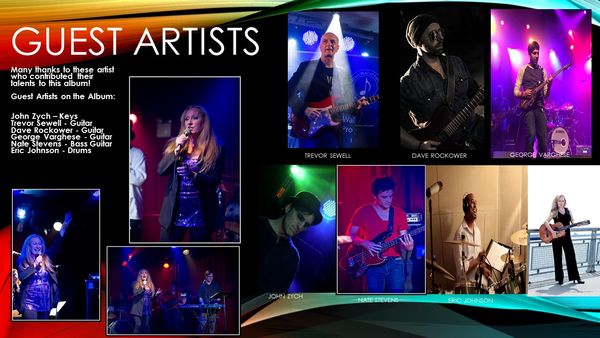 Pronunciation: GAUDET = Surname pronounced "Go-day" 

***************************************************************
Known for their fiery performances and commanding stage presence, 'GAUDET' captivates audiences with a compelling fusion of excitement and great music.  The Music is rooted in a gumbo of magical musical spice from New Orleans with a dash of New York salt for taste! A combination of searing guitar solos, great vocal melodies and lyrics, 'GAUDET' takes song presentation to new heights! "A Breath of Fresh Air..... Raw, like music should be."-The Project, NY

***************************************************************
DISCOGRAPHY with Full Band
2023 BLAZE THE NIGHT AWAY (Gaudet/Blazer)
2022 MANHATTAN OZ, A Gotham Odyssey
2021 GREEN LIGHT
2017 PRICELESS
2014 WILD THINGS
2011 HEART ON FIRE
2010 SOLID (Gaudet/Toussaint)
2008 OASIS

***********************************************************
Christina Gaudet 
Born in New Orleans, Christina grew up in the famous French Quarter, listening to the funky soulful sound of Louis Armstrong, Fats Domino, Professor Longhair, Allen Toussaint, Dr. John, Irma Thomas, Aaron Neville, The Neville Brothers and Wynton Marsalis, to name a few. It was that "gumbo" of musical spice that seduced her into an unending love affair with music. 

JZ
John Zych (aka: JZ) has been a professional performing and recording musician since 1988.  He is a graduate of the recording & engineering program at The Grove School of Music in Van Nuys, CA.  He has toured the Eastern U.S. and performed at such venues as BB Kings, The Bitter End, and The Whiskey A Go Go in LA.  John has worked in the NYC area since 1998 and has performed in New York City, Queens and Long Island. 
As producer he has produced songs that have been played on radio stations for Hot 97fm, WCBS 101.1; and 90.1WSBU.  He has also produced, recorded and played on 'Next In Line' by George Banton and 'Breakthrough' by Nora Dean that hit #1 on Love FM radio stations on the Island of Jamaica.  He has also produced songs that were featured in the independent films 'Believing' by Murasaki productions and 'Echoes in Blue'.  Both films had their debut at the 10th Los Angeles Short Film Festival.
In both 2003 and 2005 JZ won the Caribbean Gospel Music Award for best arranger. Recently he co-produced and was featured on the album 'Priceless' by Christina Gaudet, which won Best in Rock music video for the New York Film Festival and the Global Film Festival Award.  He has co-produced the albums 'Dance In the Wind', 'Where Truth Lies', 'SeaSaint Sessions', 'Oasis', 'Solid', 'Heart On Fire', 'Wild Things', 'Priceless' and 'Manhattan Oz' Albums for Christina Gaudet as well as many singles.  John is a winner of the Global Music Award, as co-producer and featured artist for the album 'Wild Things' by Christina Gaudet, as well as, being nominated for the same album by the Hollywood Music and Media Awards.
Currently, John records artist from all over the world at his studio in Tampa, FL. 

Eric Johnson
Eric, endorsed by Soultone Cymbals since 2009, is in high demand for his dynamic funky soul beats.  He is also endorsed by Hammond Organ as their official drummer featured on their video pages.  He is the  "baddest", monstrous drummer out there.  That man can play those drums tighter than a mosquito.  Just listen closely to the hi-hat followed by the kick, that grove just locks you in.  He's got the IT as in HIT factor.  Some drummers can just play anything.  He is diverse in all styles of music.  It helps to have a wide vocabulary in the studio where he is well respected for his production skills.
Chicago native Eric Johnson has chops the whole way around: from African and Latin poly-rhythms, to rock and R&B, to jazz, gospel and hip-hop, Eric's power and finesse with all manifestations of the beat, is exceptional. Maybe it's all the time he has spent DJing and collecting rare records, maybe it's a by-product of his production talents, or maybe it's just due to his Creole heritage, but whatever the source of Eric's musical diversity, it has made him a much-in-demand participant in projects of multiple genres for a truly impressive array of artists, including Kanye West , Angie Stone, Dru Hill, Chingy, Pras (The Fugees), drummer for Isaiah Sharkey's solo project (guitarist for John Mayer, D'Angelo, Patti Labelle), Jackie Dustin, The Pentecostals of Chicago Choir, The Turks & Caicos Mass Choir, Twinkie Clark, Sakura Nozaki, Martha Reeves, Shannon Harris, Glenn Underground, and The Arkansas Mass Choir. It's as simple as this: Eric rages on the drums, and he breathes a fiercely dynamic fire into the rhythms of Tycoon Dog, Christina Gaudet, Reverend Billy and the Church of Life After Shopping Gospel Choir and Turbine.

While touring, Eric continues to play shows with Isaiah Sharkey, Christina Gaudet, Tycoon Dog, Turbine, and Reverend Billy and the Church of Life After Shopping Gospel Choir with whom he just finished touring Germany, Ireland, England, and Austria. Eric also plays and tours with R&B legends, The Emotions.

As producer, he has produced tracks for rap artist A.O.N., Lupe Fiasco, and Street Clergy, and has his own music production website under his dj name, DJ MARBLL.  Eric's dj mixes can also be heard under the DJ MARBLL icon.
Recently, Eric was featured on the album 'Priceless' by Christina Gaudet, which won 'Best in Rock' music video for the New York Film Festival and the Global Film Festival Awards. He has also played on Gaudet's 'Oasis' and 'Solid' Albums. Eric is also the winner of the Global Music Award, as featured artist for the album 'Wild Things' by Christina Gaudet, as well as, being nominated for the same album by the Hollywood Music and Media Awards. 
"Be  true to yourself". That's the easiest thing a person could master." Paying homage to his Creole heritage, Eric believes in just living life to the fullest while giving a little of himself and we are all the better for it!!


Nate Stevens
Nate is one of music's great undiscovered treasures. He can apply fretless finess or double-thumbing furious funk workouts. As a bassist, he listens closely to the hi-hat. He likes to create the pulse of the foot with his base. It's just a feel thing!! A gifted musician he is an example of power and grace on bass.

Born in Louisville, KY around the time Ronald Reagan was shot by John Hinckley. "I grew up classically trained on the viola, but my introduction to contemporary music came from my older brother who insisted on listening to Miles Davis at high volumes. Those scary sounds seeped through the walls into my room and I soon realized the orchestra was not for me.

So I went downtown and bought an electric bass. I studied some jazz, joined bands, quit bands, played rock, played soul. Then I became bored and decided it was time to move to New York. Since then, it's been nothing but booze and girls and ever-increasing debt. Nowadays, I tell myself that maybe I should've stayed in the orchestra... at least they have health care. "
 
Dave Scott Rockower 

Producer, Guitarist, Singer, Songwriter, Bassist, Drummer, Audio Engineer.  There are many musical facets that I do professionally, all under the title 'The Duke Western'.  I release my own songs, produce other artists, give private lessons, perform live, contribute professional quality studio tracks on Guitar, Drums, Electric Bass, Vocals and Arrangements.  I am a music Geek and I am trying to get better at it.

Alex Otey 
Alex is a pianist, singer, trumpeter, composer/arranger, music producer and recording engineer who has performed with a number of prominent jazz musicians including Richie Cole, Lew Soloff, Sunny Stitt, and recorded with Grover Washington Jr. He's a participant on a GRAMMY® Winning and on two GRAMMY® Nominated projects as a contributing artist, arranger. He performs as a Jazz piano-vocalist around the Philadelphia and Central NJ area and has appeared at Pennsylvania Academy of the Fine Arts, World Café Live and Harrah's Casino, also having performed with the Wilmington Symphony and other classical music settings throughout his career. Otey was honored to have performed at the White House Egg Roll event in 2010 with Miss Amy, and has appeared at Bethlehem Musikfest and other festivals along the east coast. In addition, Otey hosts The Trenton Jazz Show aired on WWFM JazzOn2 89.1 HD2. More info at: www.AlexOtey.com  
George Varghese 
George Varghese is an award winning artist and producer from India, now based in Seattle. He has captivated audiences with his innovative style of playing instrumental rock showcasing his technical finesse on the guitar through the melody, drama and emotional journey of his compositions. Recently he was featured on the album 'Priceless' by Christina Gaudet, which won Best in Rock music video for the New York Film Festival and the Global Film Festival Award.

George is also the founder of Verge Studios in Seattle that helps artists across the globe bring their creative art to life. This state-of-the-art fully-equipped facility has released over 300 high quality productions in the first 4 years since its inception.
Khalil Curtiss
One of the 35 snare drummers to record on Pink Floyds "The Wall" album, track "Bring the Boys Home", contracted by Blue Ocean.
He has performed with Jazz Guitarist John Abercrombie, preeminent free-jazz percussionist, Andrew Cyrille and composer/performer Eric Ross and the Eric Ross Jazz Ensemble.

Khalil began playing music at age eight on piano with his father, and drums and percussion around that same time. He started playing with the drum corps as a snare and bass drummer. He studied jazz drumming in the style Joe Morello from Dick Bennet teacher of the infamous drummers Carmine and Vinnie Appice ( of Vanilla Fudge and Ozzy) and the famous Jazz drummer Freddy Waits. When he heard the internationally renowned flutist Hubert Laws play he said…"that's it, I'm playing Flute!" After studying at the Brooklyn Conservator of Music, his teacher Mary Driver encouraged him in such a way that the path was clear. She placed him in a Russian Balaliaka Orchestra which performed at Town Hall, NY and Alice Tully Hall, Lincoln Center. Kahlil received a B.F.S., cum laude from Long Island University (Brooklyn Campus).

Khalil enjoys performing diverse styles of music, including Haitian Conpas, Meringue, Salsa, and Indian music. Presently he performs with, Wayne Hilliard and Elements, Jazz Band, the Mike Davis Harlem Heritage, 17 piece Big Band, the progressive fusion Unit named "Intelligent Design" and now with Christina Gaudet!

Shenole Latimer
Described by some members of the media as, "a young jazz star on the rise"!  Award winning saxophonist, Shenole Latimer has steadily gained recognition for his playing style and engaging stage presence.  Latimer's passionate approach to playing the saxophone shows influences drawn from the likes of Michael Brecker, Branford Marsalis, John Coltrane, and Kenny Garrett.  All of this while still exhibiting the gift of being able to effectively communicate with his audiences through a voice and style that is uniquely his own.
Throught the course of his career, Shenole has had the privilege of sharing the stage with such Jazz musicians a Jon Faddis, Todd Coolman, Ron Affif, Kenny MacKenzie, Lievan Venken, E.J. Strickland, Derek Gardner, Rufus Reid, Dan Faulk, Vincent Herring, Kyle Sturve, Thomson Keeland, Willard Dyson, Dion Parson, Ray Anderson, Jerry McDonald, Nick Russo, Gerry Neiwood to name a few.  Latimer has opened for Larry Coryell, Christian McBride, Cecil Brooks III, Renee Rosnes and J.D. Allen.


Previous Album Contributors:

Guitar
Scott Thomas Ferreira - Lead Guitar Solos, Rhythm Guitar, featured on Oasis and Sold Album

Horns
Khalil Curtiss - Flute, Tenor and Soprano Saxophone, Current Band Member, Featured on Oasis, Solid Album
Shenole Latimer - Alto/Soprano Saxophone, Flute, Featured on Dance In The Wind, Where Truth Lies, Oasis, Solid
Jim Seeley - Trumpet and Flugelhorn, Featured on Solid Album

Subs
Taka Norinita - East Coast, Drums
Jim Bertini - East Coast, Drums
Daniel Prine - Sub Bass

Backing Vocals
Justine Blazer - Backing Vocals, Blaze Singel
Jessie Rey Waltz - Backing Vocals, Wild Things Album
Ruby Collins - Backing Vocals, Wild Things Album
Allison Rae Carlson - Backing Vocals, Solid Album
Gloria Carpenter - Backing Vocals, Solid Album