Joe's Pub, NYC with Allen Toussaint and the Band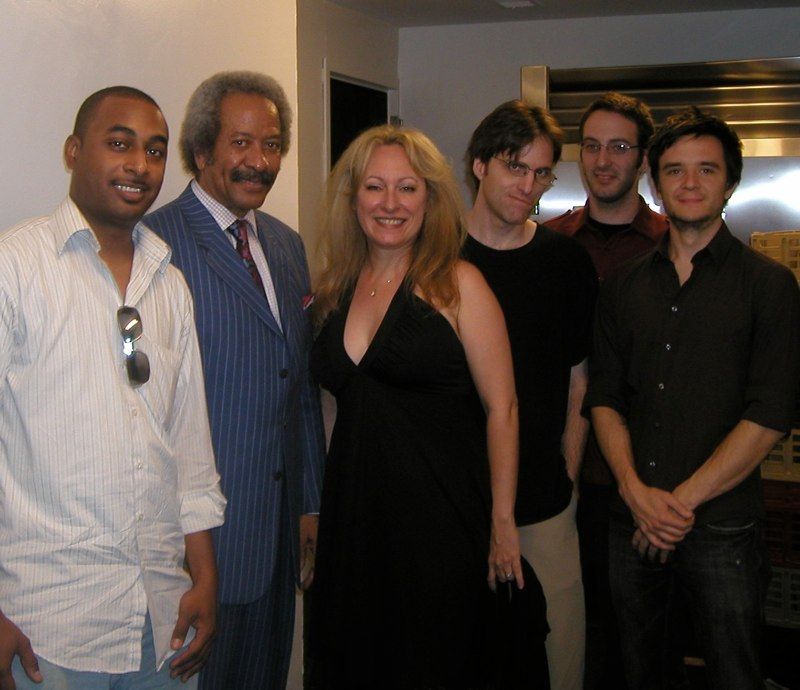 About~
Recording Artist / Singer/Songwriter/ Composer / Producer/  Actor/ Film & Video Director 
Christina is a protégée of Allen Toussaint and the New Orleans Blues/Rock/Americana sound.  She is an award winning, Singer-Songwriter / Composer, Recording Artist, Producer and Actor, with many Film, TV and Broadway credits. Musically she has written and produced many full length albums and singles, in world wide release.  Winner of the Song of the Year Award, Nominated for the Hollywood Music in Media Awards, and 7x NARAS balloted artist (aka: The GRAMMYs®), a voting member of the National Academy of Recording Arts and Sciences since 2013 and a voting member of SAG awards since 1987.  She belongs to the Recording Academy, The Composers & Songwriting Production Wing and the Producers and Engineers Wing of the Recording Academy. A 3x Global Music Award Winner, and nominated for the 2022 and 2023 Josie Music Awards in Nashville.  
A bluesy, roots Rock specialist with a powerful voice, Christina Gaudet is a singer, songwriter, who burst onto the scene in the early 2000's both as a solo artist, and with her band. She released 2 solo albums, Dance In The Wind, 2005 and Where Truth Lies, 2006, prior to a collaborative album release with Allen Toussaint, for the SeaSaint Sessions in 2007.  Her group went widescreen in 2008 with an eponymous first full studio album, Oasis, which paired heartland rock with New Orleans-style grooves. She returned with her next album SOLID in 2010, collaborating again with New Orleans' own, Allen Toussaint, which was followed by a solo album, Heart On Fire and a collaborative EP, Stray Blue in 2011. Back to a full band album, she released Wild Things, arriving in 2014.  She continued on with the Priceless album in 2017 featuring many talented musicians she had met through her work with the Grammy's.  After living in NYC for many year, Christina released an ode to that beloved city,  Manhattan OZ, A Gotham Odyssey, featuring many of the talented musicians she has met along the way. As an indie artist, with over 100 songs in worldwide release,  she owns her entire catalog. 

Fans can expect an energetic, razor sharp performance from one of the best Blues-Rock acts in the area.  She has quickly picked up the pace, writing and recording songs while taking on the massive New York scene, backed by her core band and featuring some of her favorite musical artists, who each play an integral part in creating this dynamic musical powerhouse.  By drawing from vast pools of musical influences and combining completely unique regional sounds, Gaudet is capable of generating a feel which can range from Rock to Pop to R&B and the Blues. Comprised of homegrown New Orleans influence and a fistful of electric New York City flair, Gaudet is poised to unleash her latest musical effort onto the waiting ears of fans from The Big Apple to The Big Easy. Manhattan OZ, is a ten song genre blending collection of Gaudet's finest work to date and it has descended upon the music community. 
In addition to many EPs and Singles, 'Manhattan OZ', 'A Gotham Odyssey', is Christina's 10th full length album in worldwide release. 
Come along the journey continues...
History~
Christina, grew up in the famous French Quarter of New Orleans, listening to the funky soulful sound of Louis Armstrong, Fats Domino, Professor Longhair, Allen Toussaint, Dr. John, Irma Thomas, Aaron Neville & The Neville Brothers. It was that gumbo of musical spice that seduced her into an unending love affair with music.
Collaborations: 
Include works with Allen Toussaint, (NYNO Records), Randy Newman and Leiber and Stoller.
Many collaborations have hit #1 on the Billboard Charts, Top 10 Billboard Charts, #1 iTunes UK, #1 iTunes US and even garnered an Oscar nomination.  She has also produced music videos, winning awards from the NYC Indie Film Festival and the Global Film Festival.  

These collaborations include works with Allen Toussaint, (NYNO Records and as artist for His Off Broadway show 'Staggerlee') , Randy Newman (as an artist for his Off Broadway show - 'Middle of Nowhere') and Leiber and Stoller (as an artist for their Bway workshop - 'Tales of Manhattan').
One of the highlights of her career was to work with Grammy Winner and Rock and Roll Hall of Fame legends Leiber and Stoller as the lead in their Workshop for Tales of Manhattan, with Yaron Gershovsky, Musical Director (Work Shop for Broadway).  Christina also had the privilege to work on The Middle of Nowhere (Off-Broadway), written by Oscar and Grammy®  Winner legend Randy Newman and starring, Vondi Curtis Hall and Nick Sercy (known from Stephen Spielberg's Castaway).  She shared the stage with Rock and Roll Hall of Fame & Tony Award winner Ruth Brown in Stagerlee (Off-Broadway), written by Rock and Roll Hall of Fame member and Grammy®  Award Life Time Achievement Winner Allen Toussaint (NYNO Records)
Highlights: 
Hitting #1 on Billboard World Music Charts for the collaborative album "Together in Peace," entered in the 60th Grammy®  Awards in World Music, was a great high point. 

Landing at #8 on the Top 10 on Billboard Blues Charts, #1 on iTunes Blues Charts in the US and UK, and Top Amazon Hot List, for the album "Devil Is Back" by Oliver Sean & R.I.P. (The Real Indie Project).  NARAS Ballot Artist in Best Contemporary Blues Album.
Outer Critics Circle Award, as cast member for Staggerlee, Second Avenue Theatre, New York.
NARAS Highlights:
Albums on the NARAS Ballot: Manhattan OZ, Wild Things, Priceless, Echoes of Angels, Refill My Heart, Green Light.
She is a member of the National Academy of Recording Arts and Science and a voting member of the Grammys. She belongs to both the Recording and The Composers & Songwriting Production Wing of the Recording Academy.

Broadway & Tours:
Christina is also a Broadway, Off-Broadway, veteran with Film and Television credits, and winner of the, Outer Critics Circle Award, as cast member.  She is also a member of Screen Actors Guild, a voting member of the SAG Awards and a member of Actors Equity.   
Internationally Christina has toured throughout Europe. Some of the many countries include; Germany, Italy, Yugoslavia, France, Austria, England, and Finland. It was a great experience for her to be able to perform at the Schubert Festival in Vienna, Austria. That endeavor led to performing for the great composer Aaron Copeland in a tribute performance to his music. South American tours include Mexico, Central America, South America and the Caribbean Islands.

Producer of award winning music videos that include winning the, NYC Indie Film Awards, The Los Angeles CineFest Award and The Hollywood Film Award. She is also a BMI Writer and Publisher.

Accomplishments:
#1 TOP BILLBOARD CHARTING ALBUM (TOGETHER IN PEACE)
#8 TOP 10 BILLBOARD, (DEVIL IS BACK)
#1 ITUNES US, #1 ITUNES UK, TOP 10 AMAZON HOT LIST
7x NARAS BALLOTED (aka: The GRAMMYS®)
HOLLYWOOD MUSIC IN MEDIA AWARDS NOMINATED
2 x Josie Music Awards Nominee
3 x GLOBAL MUSIC WINNER
AKADEMIA WINNER
OUTER CRITICS CIRCLE AWARD WINNER
GLOBAL FILM FESTIVAL AWARD WINNER
NEW YORK INDIE FILM FEST AWARD WINNER
BROADWAY and Off BROADWAY VETERAN
MEMBERSHIPS:
NARAS (GRAMMY®) VOTING MEMBER, SINCE 2013 
GRAMMY® SONGWRITERS & COMPOSERS WING OF THE RECORDING ACADEMY, SINCE 2017
GRAMMY® PRODUCERS & ENGINEERING WING OF THE RECORDING ACADEMY, SINCE 2023
SCEEN ACTORS GUILD VOTING MEMBER/NOMINATING COMMITTEE MEMBER, SINCE 1987
HOLLYWOOD MUSIC & MEDIA AWARDS VOTING MEMBER, SINCE 2015
HOLLYWOOD INDEPENDENT MUSIC AWARDS MEMBER, SINCE 2021
INTERNATIONAL SINGER SONGWRITER ASSOCIATION MEMEBER, SINCE 2023
WOMEN IN MUSIC MEMBER, SINCE 2015
ACTORS EQUITY ASSOCIATION, SINCE 1980

SAG/AFTRA/AEA/BMI/NARAS/HMMA/HIMA/WIM/ISSA
DISCOGRAPHY
2023  Blaze The Night Away (Gaudet/Blazer)
2022 Manhattan OZ, A Gotham Odyssey
2021 Green Light
2020 Refill My Heart
2020 Devil is Back (Oliver Sean/Feat. RIP)
2020 Out of the Storm 
2019 Everyday Will Be Like a Holiday (Oliver Sean/Feat. RIP)
2019 Echoes of Angles (Gaudet/Peluso)
2017 PRICELESS
2014 WILD THINGS
2012 C'mon Let's Go (Gaudet/Aaron)
2012 Heart On Fire Klubjumpers Remixes
2011 HEART ON FIRE
2010 SOLID (Gaudet/Toussaint)
2010 YES (Gaudet/Strayblue)
2009 Eagles Fly Klubjumpers Remixes
2008 OASIS
2007 SEASAINT SESSIONS ( Toussaint/Gaudet)
2006 WHERE TRUTH LIES
2005 DANCE IN THE WIND
Appears On:
2020  One Little Finger
2016  Action Moves People United 

Catalogue available at: 
CD Baby, BMI, Crucial Music Publishing
(All Music and Lyrics Copyright 2005-2022, Reserved worldwide)

FAMOUS WORKS (*Created the role in a new production)
BROADWAY (wkshop)  – *The Narrator, (Lead) Tales of Manhattan, (Workshop) by Leiber and Stoller, NYC.
OFF-BROADWAY  – The Girl (us) Middle of Nowhere, by Randy Newman, NYC.
OFF-BROADWAY  – *Andrea, Staggerlee, by Allen Toussaint, NYC.
OFF OFF-BROADWAY  – Smeraldina, The Servant of Two Masters, LaKota Theatre Co., NYC.
OFF OFF-BROADWAY  – Jeannie, Lost and Found, Douglas Fairbanks Theatre, NYC.
OFF OFF-BROADWAY  – Andromeche, The Trojan Women, LaKota Theatre Co., NYC.
OFF OFF-BROADWAY  – *Wishing You Well, The Duo Theatre, NYC.
OFF OFF-BROADWAY  – *Penguins, The Duo Theatre, NYC.
OFF OFF-BROADWAY  – *Galaxy, The Duo Theatre, NYC.
REGIONAL WORKS
Brigadoon, South Pacific, Funny Thing Happened On The Way To The Forum, - Country Playhouse, Denver, Co.
Mack & Mabel, Funny Girl, Gypsy, West Side Story - Le Petit Theatre du Vieux Carre, New Orleans, LA.

Major Tours
Blue Note: Tokyo, Japan (with Allen Toussaint)
Shubert Festival: Vienna Austria
Alfred Productions Tour: South America, Caribbean and US Virgin Islands
European Tour: Austria, Germany, Italy, France, Yugoslavia

Films
Spiderman II, Starring Toby McGuire
Zoolander, Starring Ben Stiller
Autumn in New York, Starring Winona Ryder and Richard Geer
Six Degrees of Separation, Starring Will Smith
Murder at the Mardi Gras, 1978.

Television
One Life To Live, CBS
Search for Tomorrow, NBC
Banana Chip Love
Manhattan Bridge

Christina Gaudet is a member of BMI, SAG, AFTRA, AEA, NARAS, WIM, HMMA, HIMA, ISSA